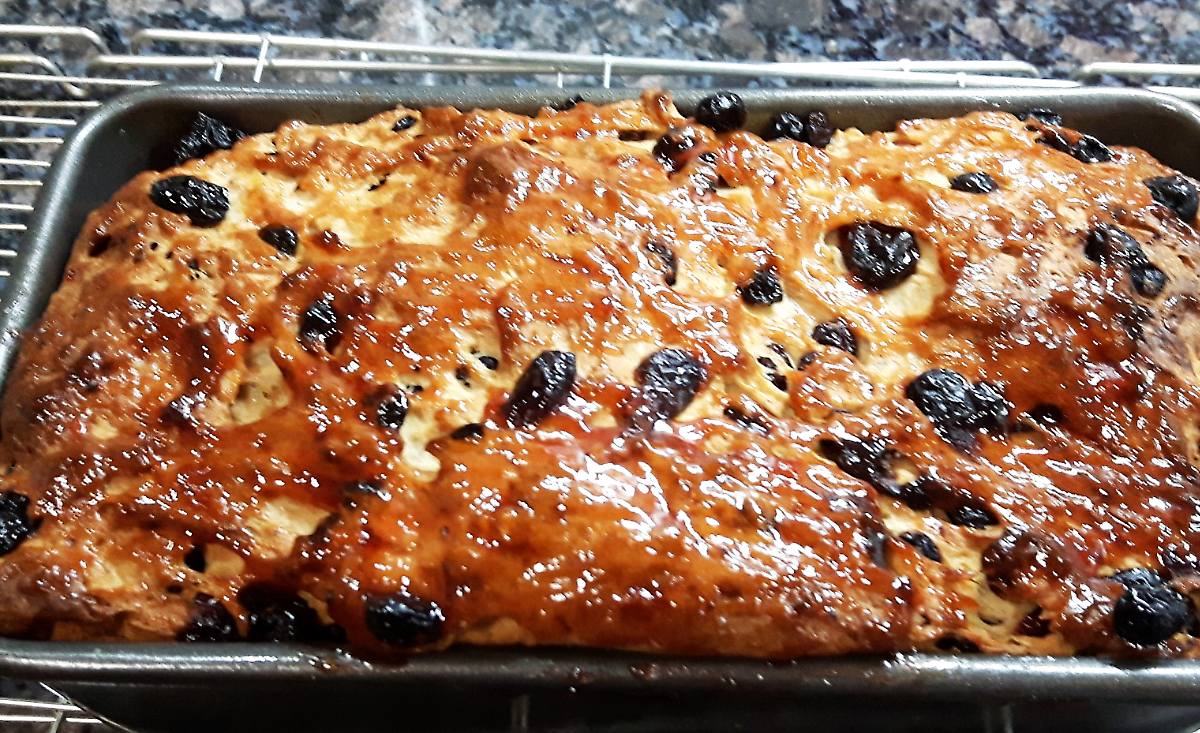 Ingredients
1lb 11oz/750g strong plain flour
8oz/225g butter
1 sachet fast action yeast
½ pint/300ml warmed water
4oz/110g demerara sugar
11oz/300g raisins
5oz/150g currants
5oz/150g dried cranberries
30z/75g mixed peel
2 tsps mixed spice
2 tsps cinnamon
2 tsps ground nutmeg
How to bake
Rub in the butter into the flour in a large bowl until it resembles breadcrumbs.
Add the yeast, sugar and water, mixing until a dough is formed. Knead for around 5 -10 minutes on an oiled surface until the mixture is soft and smooth or use a dough hook until the dough separates from the mixer bowl. Place the dough in a large oiled bowl.
Cover with a tea towel or cling film and leave to rise in a warm place until doubled in size. This can be up to a couple of hours. Oil 2 x 2lbs/1kg loaf tins.
Add the dried fruit and spices to the dough and mix in well.
Knead for around 5 minutes and then divide the dough into two.
Place the mixture in the 2 tins. Leave to prove for another hour or more in a warm place until the dough has risen again and it springs back if you push it lightly with your finger.
Preheat the oven to 220C/Gas 7/425F. Bake the loaves for about 30-35 minutes until cooked through.
Remove from the oven and allow to cool before turning out.

Meryl's tips : Make a glaze by warming with 2 tbsps of apricot jam and 2 tbps redcurrant jelly in a pan to brush over the loaves once they came out of the oven. Enjoy a slice or two on Christmas morning. A happy and peaceful Christmas to all!