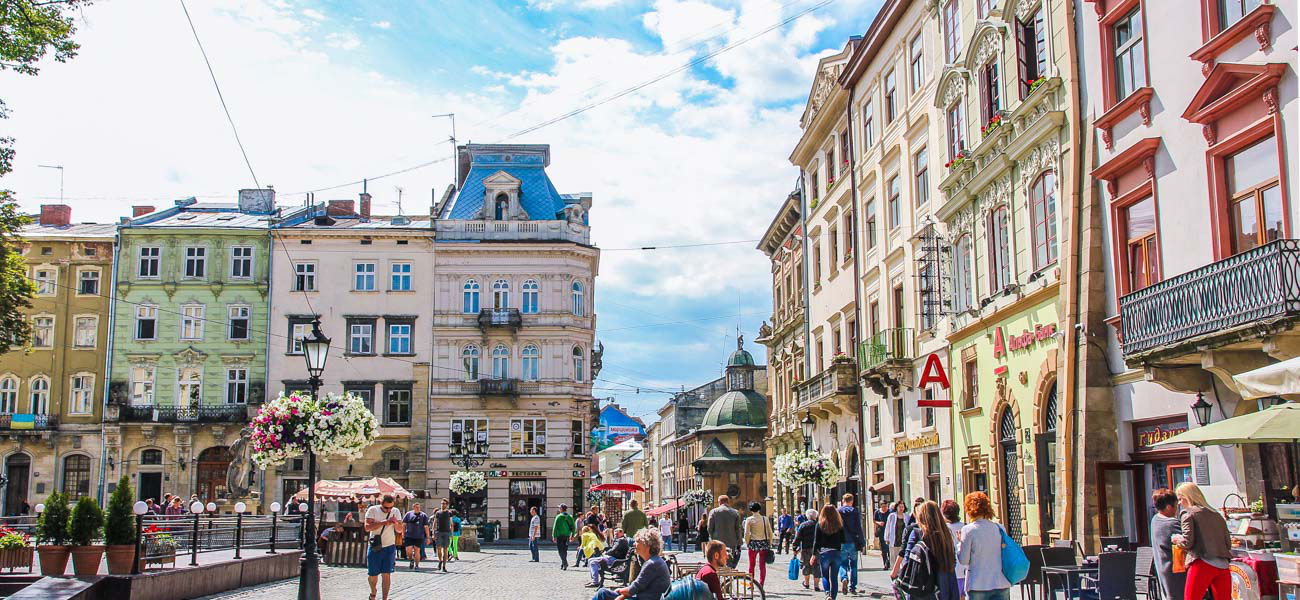 Lviv: Sister City of Partnership
City of York Council is in the process of establishing a sister city partnership with Lviv, Ukraine. This was agreed by Full Council at a meeting on 27 April 2022.
Lviv is the largest city in Western Ukraine and, most recently, has been a focal point for Ukrainian citizens who have had to flee the country's east and south following the attack by Russia. In many cases their homes have been destroyed.
The centre of Lviv is on UNESCO's world heritage list and it is a focal point for Ukraine's culture assets.
The process of adopting Lviv as a sister city is in its early stages, with an exchange of gifts having taken place and an ongoing dialogue with Lviv's Mayor, Deputy Mayor and officers. There is ongoing work to establish areas of commonality and where future cooperation will be focused with opportunities for both cities to learn from one another. We have many shared interests which we will look to build upon to cement the growing friendship between our two historic cities.
The sister city relationship is part of the Council's and York's show of solidarity with the people of Ukraine in the face of Russian aggression. There are over 280 Ukrainians working with us in York.
City of York Council looks forward to working with colleagues in Lviv and we keep them and all the people of Ukraine in our thoughts as the conflict with Russia continues.
Львів – місто-побратим
Рада міста Йорк працює над встановленням партнерських зв'язків з новим містом-побратимом Йорка – Львовом (Україна). Відповідну ухвалу було прийнято Радою на засіданні 27 квітня 2022 року.
Львів є найбільшим містом у Західній Україні і останнім часом став домівкою для багатьох громадян України, які змушені були втекти зі сходу та півдня країни від війни, розв'язаної росією. Нерідко їхні помешкання були цілком зруйновані.
Центр Львова входить до списку всесвітньої спадщини ЮНЕСКО і є осередком культурних надбань України.
Встановлення партнерських зв'язків зі Львовом як містом-побратимом перебуває на початковій стадії. Наразі відбувся обмін подарунками і триває діалог з мером Львова, його заступниками та посадовими особами. Продовжується робота над визначенням сфер спільних зацікавлень, у яких здійснюватиметься майбутня співпраця з можливістю для обох міст вчитися одне в одного. У нас багато спільних інтересів, на які ми спиратимемося у зміцненні зростаючої дружби між нашими двома історичними містами.
Розвиток співпраці зі Льовом як містом-побратимом є одним з аспектів вияву солідарності жителів Йорка та Ради міста Йорк з народом України, який опинився віч-на-віч з російською агресією. У Йорку з нами працює понад 280 українців.
Рада міста Йорк з нетерпінням чекає на співпрацю з колегами у Львові. Ми не забуваємо про них та всіх людей України, оскільки війна із росією триває.